Black Talk is a one-hour monthly show bringing us news and more from NAACP Boulder County and beyond.
Hosted by Michele Simpson, it airs on KGNU on the second Thursday at 8:32 AM, just after the BBC News headlines.
Find out more about the work of the NAACP Boulder County chapter at naacpbouldercounty.org
Listen to the November 10, 2022 show:
play_arrow

Black Talk: Percy "Master P" Miller on Black Mental Health Shannon Young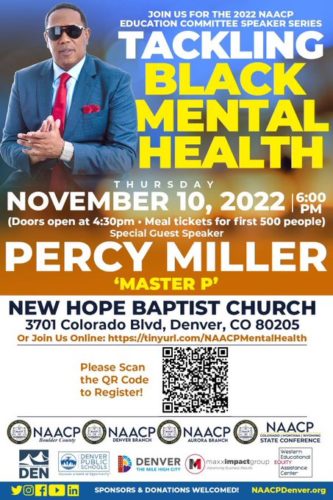 Inspired by the NAACP's Extraordinary Speakers Series, this month's Black Talk features a conversation on Black Mental Health with Percy Robert Miller, Sr., known to many as rapper, Master P. Since his daughter's death in May, Mr. Miller has been on a mission to raise awareness about the link between substance abuse and mental health. As he said, in the days following the overdose death of his 29-year-old daughter, "I'm gonna turn my pain into passion and I'm gonna turn it into a purpose because I can't get my daughter back. I love her…but I realized that I have to get out here and help and save other kids."
We will talk to Mr. Miller about what he has learned about this challenging and persistent issue, and what he hopes to achieve by working to lessen the stigma of speaking openly and authentically about the mental health struggles faced by Black people throughout the U.S. Today's episode also revisits a previous broadcast of a discussion with Dr. Eldridge Greer, Founder and CEO of Whole Child Whole Adult Counseling.
play_arrow

Black Talk: Percy "Master P" Miller on Black Mental Health Shannon Young
Podcast: Play in new window | Download