Black Talk is a one-hour monthly show bringing us news and more from NAACP Boulder County and beyond.
Hosted by Michele Simpson, it airs on KGNU on the second Thursday at 8:32 AM, just after the BBC News headlines.
Find out more about the work of the NAACP Boulder County chapter at naacpbouldercounty.org
Listen to the December 8, 2022 show:
play_arrow

Nyasha Williams Can Talk To Your Ancestors Shannon Young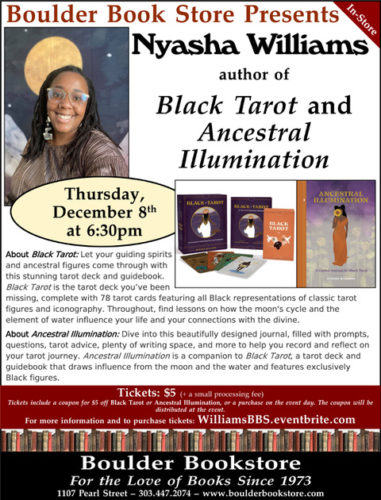 December's Black Talk features author, creative, activist, Nyasha Williams. She is the author of the newly published and available Black Tarot: An Ancestral Awakening Deck and Guidebook. Join us as we learn about her upbringing in South Africa and Louisville, Colorado.
Nyasha was one of six Black children in her family being raised by white parents. In her mid-20s, she began to embrace her Blackness, Black woman-ness, and deep exploration of her ancestral roots.
All of the pieces and parts that have influenced Nyasha are infused into the tarot deck she has created. We learn about her ancestral awakening and learn about her past, current, and future artistic efforts. Consider the following as a quote that embodies Nyasha's perspective on life: The true meaning of life is planting trees under whose shade you do not expect to sit — Nelson Henderson.
Nyasha will appear at the Boulder Bookstore on the evening of 08 December, at 6:30 pm.
play_arrow

Nyasha Williams Can Talk To Your Ancestors Shannon Young
Podcast: Play in new window | Download