Ali Duncan is the creator and founder of Urban Sanctuary and is a Colorado Native born and raised in Fort Collins. She is a complete Life Coach, Clairvoyant, Tantrika, Energy Healer, Spiritual Guide and Teacher. Ali for over 16 years has combined the world of quantum mechanics, frequencies, emotions, and body wisdom to move her clients from their past, into the present and support them in creating a healthy, vibrant future.
Urban Sanctuary is the only black owned yoga and wellness studio in Denver, Colorado. Offering more than 60 classes of in-person and virtual classes as well as workshops. The studio operates with connecting community at top of mind which continues to be an ever-evolving growth of the wellness community through purpose, education, and love.
Ali sat down with Tish Beauford on " A Public Affair" on February 23rd to discuss the challenges of self care awareness among women specifically BIPOC women and her journey to creating and offering Urban Sanctuary, a very unique, peaceful and inclusive space of refuge and healing for the entire Denver community.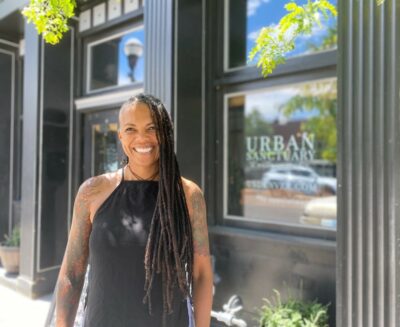 Urban Sanctuary's Message To The Community:
Just as the Lotus flower, We have built something beautiful from the ashes and dust of a prior story.
This is what we want to share with you. An opportunity to be a part of something bigger than us all; a space to share your gifts with others.
The Urban Sanctuary is just the beginning of what the world needs: Love in the form of the Divine Feminine. We welcome You.
To find out more information about Urban Sanctuary and their discounted classes and free weekly classes for the BIPOC community called Full Circle, our Kemetic Yoga classes (The Original Yoga), visit their website: www.urbansanctuary.love
Community members who are interested in signing up for classes please click on this link below.
Intro offer: https://app.arketa.co/usdenver/pricing/checkout/CWmcufodGUMs0TPm41Gk
Enter code FREEFORUS for any class of your choice.
play_arrow

Ali Duncan – Urban Sanctuary Tish Beauford
play_arrow

Ali Duncan – Urban Sanctuary Tish Beauford
Podcast: Play in new window | Download