St. Vrain Valley School District Parents and Students are organizing a peaceful protest ahead of this afternoon's school board meeting. They're calling to request fresh and healthy food in school lunches for students who are in reduce of free lunches at schools.
KGNUs Rossana Longo-Better spoke with Caro Neri, community organizer of EL PASO.
Listen:
play_arrow

St. Vrain Parents and Students Organize a Peaceful Protest to Request Food Justice (bilingual post) Rossana Longo-Better
Padres y Estudiantes de St. Vrain Organizan una Protesta Pacífica para Pedir Justicia Alimentaria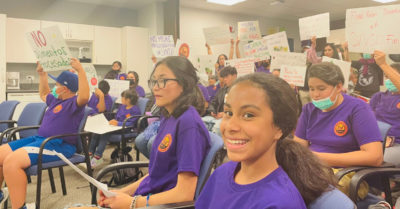 Escucha:
Padres y estudiantes del Distrito Escolar del Valle de St. Vrain en Longmont Colorado organizan una protesta pacifica antes de la reunión de la junta directiva. Para hacer un pedido formal para recibir comida fresca y nutritiva en los almuerzos escolares en especial para los estudiantes que reciben comida a bajo costo o gratuita en las escuelas.
Rossana Longo-Better, reportera de equidad de KGNU conversa con Caro Neri una activista comunitaria de EL PASO.
play_arrow

St. Vrain Parents and Students Organize a Peaceful Protest to Request Food Justice (bilingual post) Rossana Longo-Better
play_arrow

St. Vrain Parents and Students Organize a Peaceful Protest to Request Food Justice (bilingual post) Rossana Longo-Better
Podcast: Play in new window | Download