In our Connections show today we hear about the latest finding from The Colorado Health Foundation Poll: Pulse survey that exposes how 40% of Coloradans say they are "just getting by financially, "including more than one in ten describing themselves as "really struggling" says, Austin Montoya, Senior Officer for Policy Advocacy Communications.
Montoya shares with KGNU's Rossana Longo Better that many residents must make tough choices- skipping meals, living with family or roommates when they would rather not, or having to work multiple jobs to get by every month.
English interview:
play_arrow

Colorado's Pulse Shows Real Concern / El Pulso De Colorado Muestra Preocupación Rossana Longo-Better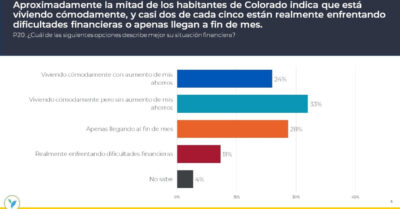 En nuestro programa de Pasa La Voz hablamos sobre los resultados de la encuesta El Pulso de The Colorado Health Foundation que muestra que el 40% de los residentes de Colorado están sobreviviendo con las justas finacieramente, y es que más de uno de los diez encuestados se describen así mismos como realmente pasando dificultades, nos comenta también el analista experto Enrique Castillo parte de la firma consultora especialista en estudios de mercado para la comunidad latina Castillo & Associates, Inc.
Castillo le comparte a Rosssana Longo Better de KGNU que muchos residentes se ven obligados a tomar decisiones difíciles como saltarse comidas y vivir arrimados con sus familiares o amigos aunque no lo quieran, y muchos tienen que tener varios trabajos para poder sobrevivir cada mes.
Spanish Interview:
play_arrow

Colorado's Pulse Shows Real Concern / El Pulso De Colorado Muestra Preocupación Rossana Longo-Better
play_arrow

Colorado's Pulse Shows Real Concern / El Pulso De Colorado Muestra Preocupación Rossana Longo-Better
Podcast: Play in new window | Download