KGNU's Spring Membership Drive runs from March 4-March 15. Call 303-449-4885 or 800-737-3030 to make a donation to keep community radio thriving. You can also contribute securely online and browse through some excellent thank you gifts.


Thank you for supporting KGNU!


Wednesday March 4th, 8:35-9:30am: Noam Chomsky, "Decoding Propaganda"


In September 2014, David Barsamian interviewed Noam Chomsky about how the media vacuum out background, context and history leaving people uninformed and bewildered, thus, easy prey to propaganda. But there have been some breakthroughs. For example on Palestine he says, "things have changed significantly over the past 10 or 15 years with regard to public opinion." He talks about Egypt, Ukraine, the uses of NATO, Central America, and what is mistakenly called "anti-Americanism." People around the world are in "opposition to brutal and destructive policies" of the U.S. "They dont hate Americans; they hate American policy."

A 2-CD set of the complete interview is available for a $60 donation to KGNU. Click here to make a donation and get the set as a thank-you gift.




Wednesday, March 4th, 6-7 PM on Alternative Radio: a special edition featuring Michael Parenti


We're featuring Parenti's talk "The Pathology of Wealth". You can have a copy of this talk as a thank-you gift for your pledge of $40.

We also have a Parenti 6-pack, hand-picked by Alternative Radio staff: The Pathology of Wealth, Hypocrisies of Capitalism, Fascism: The False Revolution, The Sword & the Dollar, The Hidden Ideology of the Mass Media and How I Became an Activist. We're offering this special collection for a pledge of $180. Consider becoming a Sustainer of Local Radio (SOLR) member - a $180 donation is only $15 per month!
Thursday, March 5th, 8:35-9:30 AM: a special edition of Radio Nibbles with special guests and restaurant gift certificates as thank-you gifts for your donations



Friday March 6th from 8.30-9.30am on Connections: YES! co-founder and editor-in-chief Sarah van Gelder joins Kathy Partridge to talk about a new anthology Sustainable Happiness: Live Simply, Live Well, Make a Difference.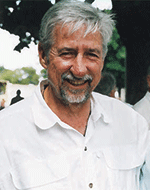 Tuesday March 10th from 6-7 PM on Hemispheres: Tom Hayden will talk about his book Listen Yankee: Why Cuba Matters
Thursday March 12th from 8.35-9.30am Ralph Nader joins us live to talk about his upcoming book Return to Sender.



Friday March 13th from 8.30-9.30am on Connections, Liz Lane speaks with Robert Scheer about his new book They Know Everything About You: How Data-Collecting Corporations and Snooping Government Agencies Are Destroying Democracy.